Well, I guess we have a community going on here. I'm going to post, because I can! I mean, I should be able to...I'm in the band for shit's sake!

What's new...

Fernie and I are going to be rebels and schedule a show for early October...without consulting the rest of the band. And we'll be fucking ready by then, so why the hell not? It's been long enough. It's time to go out and have some fun! LET'S DOOOOO IT.

Also, I've been looking into how much it would cost to get t-shirts made. I made a super lame design, check it out: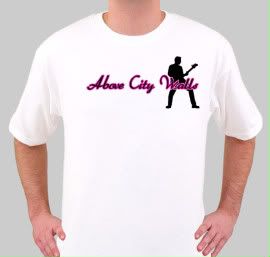 I did it mostly to get an estimate of how much it would cost to make shirts. Cost? Well, for 20 S, 30 M, 20 L, 20 XL, 10 XXL, and 10 XXXL, it would cost like $530 bucks. Not bad at all. I like the font and color...what's with black and pink that I like so much? But I just kind of threw the guitar guy on there. Like I said, it was only to see how much shirts would cost. So yeah. And our good buddy Sean wants to be our merch guy. Kick ass! You know...the more I look at it, the more I like the shirt, haha.

Anyways...I'm sure no one gives a shit.

Can't wait for the first show. Can't wait to get some merch floating around. Can't wait to get a huge fanbase going. And I can't wait to get a full length recorded someday. Practice this wednesday...aw hell yeah. It's on bitch.

Brad out.